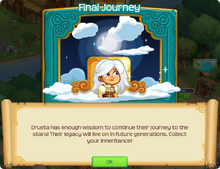 The Final Journey is a euphemism used in the game for the death of a villager.
Villagers only undertake the Final Journey when they reach old age, although some older villagers may leave your village before this happens to make room for new babies.
Your village is left with 5 gems and 5 canisters of oil, as your villager's Inheritance.